Best Things to do in Alaska Cruise Ports on your own
Posted On November 15, 2023
Planning a cruise to Alaska but don't like organized tours? Great news! There are plenty of wonderful things you can do completely on your own, and many of them are free or very affordable.
I've worked in the Alaska cruise industry since the late 90s and have lived in two Alaska cruise ports. I have spent lots of time in all the ports, both exploring on my own and on tours. I'm skeptical of organized tours myself, despite or perhaps because of, being a guide for so long.
There are many wonderful tours available on Alaska cruises and I would encourage you to consider doing one, since there are so many experiences you just can't get on your own.
This article is about the things you can do completely on your own, without organized tours. All of them are incredibly fun and will give you an unforgettable experience on your Alaska adventure!
Hiking and Walks
Every Alaska cruise port has plenty of hikes you can do straight from the cruise ship dock! If you're a hiker, check out my full guide to hiking in Alaska cruise ports.
Even if you're not a hiker, there are plenty of opportunities for mellow hikes and walks that get you outside of the bustling cruise port and out into the forests, beaches and trails of Alaska in just a few minutes, completely for free!
A few favorite mellow walks of mine are:
Ketchikan – Along Tongass Highway (there's a separated path along the road) towards Saxman Native Village – a beautiful walk along the water that leads in a couple of flat miles to Saxman.
Juneau – The Seawalk with many gorgeous totem poles along the water to the beautiful whale sculpture. If you take the city bus over to Douglas there is also a wonderful flat trail from Sandy Beach.
Skagway – The Gold Rush Cemetery and Lower Reid Falls – about 2.5 flat miles from the dock, a fascinating cemetery and beautiful waterfall
Icy Strait Point – There are a collection of trails at the dock in Icy Strait Point, or you can walk about a mile and a half along the water to the village of Hoonah.
Haines – make sure to walk around the grounds of old Fort Seward, a large grassy area with historic buildings all around it
Sitka – Do not miss the walk around Sitka National Historical Park through a rainforest of towering trees with totem poles from across Alaska along the way. You can walk up to a couple of flat miles on well maintained (though not paved) trails in the park.
Things to do on your own in Juneau
In addition to hikes and walks to, here are a few other ideas for things to do on your own in Juneau. One thing that people often want to do on their own that is really challenging to make work is visiting Mendenhall Glacier. It's definitely easiest to get there on a tour or shuttle.
Explore Juneau's amazing food scene
Juneau is an amazing food town and foodies should definitely spend some time eating and drinking their way around Juneau. I know this article is about exploring on your own, but if you're into food and hyper local experiences, definitely consider Juneau Food Tours Tour with Taste. They have tiny groups with all local guides and it's a really wonderful experience. You can book it here (your ship may offer it also, if so book early as there are only a few spots).
Alaska State Museum
Juneau is Alaska's state capitol, so it's no surprise there will be an excellent museum here! You can walk to the museum as well as the State capitol building and the Governor's mansion from the dock. This combines well with a walk on the Juneau Seawalk, taking in views of mountains, Gastineau Channel and lots of beautiful totem poles.
Rent a car and drive "out the road"
If you're up for dealing with a rental car, you can drive Juneau's entire road system in a couple of hours. This is a great way to get out of town and see some beautiful rocky beaches and coves as well as the rainforest.
Take the bus to Sandy Beach
Ride the city bus across to Douglas Island and join the locals at Sandy Beach. In addition to a big and, well, sandy beach, you can also explore the trail system around an old mine, or grab a delicious and creative pizza at the Island Pub.
Take the Mt Roberts Tram
You can book the Mt Roberts tram through your ship, but you don't really need to in order to check it out. If you can see the top of the tram from the bottom, then the view will be worth it!
In addition to a great view, you can quickly leave the crowds behind by hitting the trail for even better views.
Things to do on your own in Ketchikan
Ketchikan has lots of things to do close to the the cruise ship docks on your own. This is another port with some excellent hiking, such as the Rainbird Trail for a mellow rainforest walk, and Deer Mountain for a tough and steep climb.
Alaska Public Lands Information Center
This free museum is an excellent introduction to Alaska, and especially if Ketchikan is your first port on your cruise, this is a wonderful stop. You'll learn all about Alaska's vast public lands and they have tons of literature and maps too.
Totem Heritage Center and Ketchikan Salmon Walk
The Totem Heritage Center is a short walk or shuttle ride from the cruise ship docks and charges a small admission fee. Here you can learn about Native Alaska culture as well as see many totem poles that Southeast Alaska is known for both inside and outside in the park.
Visit the local shops on Creek Street
Creek Street is a historic strip up on stilts above the creek (often full of salmon in mid to late summer). There are lots of locally owned shops here and it's a great place to find gifts as well as see some beautiful historic buildings.
Things to do on your own in Skagway
Skagway is the smallest town on this list and the hardest on to escape cruise ship crowds. The hikes available from downtown Skagway right by the docks are absolutely fantastic and you can quickly get away from crowds. If you're a hiker, there are so many amazing options here. For a mellower hike that still gets your heart rate up, try Lower Dewey Lake. For a longer hike, try Sturgill's landing. For a tough climb to amazing views, AB mountain is amazing. It's super challenging though so do you research and be prepared for a very hard hike.
For those looking for something more mellow, try these ideas.
Gold Rush Cemetery
The Gold Rush Cemetery is just over two flat, paved miles from the dock, though the cemetery itself is not paved. A fascinating look back in history at the time of Skagway's founding and many colorful gold rush era characters buried here.
National Park Service Visitor Center and Historical walking tour
The park service offers a free walking tour of the downtown Skagway area, where nearly all the buildings are owned by the park service. You can also go to the visitor center and get the lay of the land for a self guided tour of the historic buildings of downtown Skagway.
Look for Salmon in Pullen Creek
During July and August, look for pink salmon spawning in Pullen Creek. Just head out like you're going to hike the Lower Dewey Lake Trail and you'll cross a creek over a footbridge. Look down for fish!
Really anywhere along the creek is good for looking for them, but this is a good spot that's easy to get to.
Things to do on your own in Sitka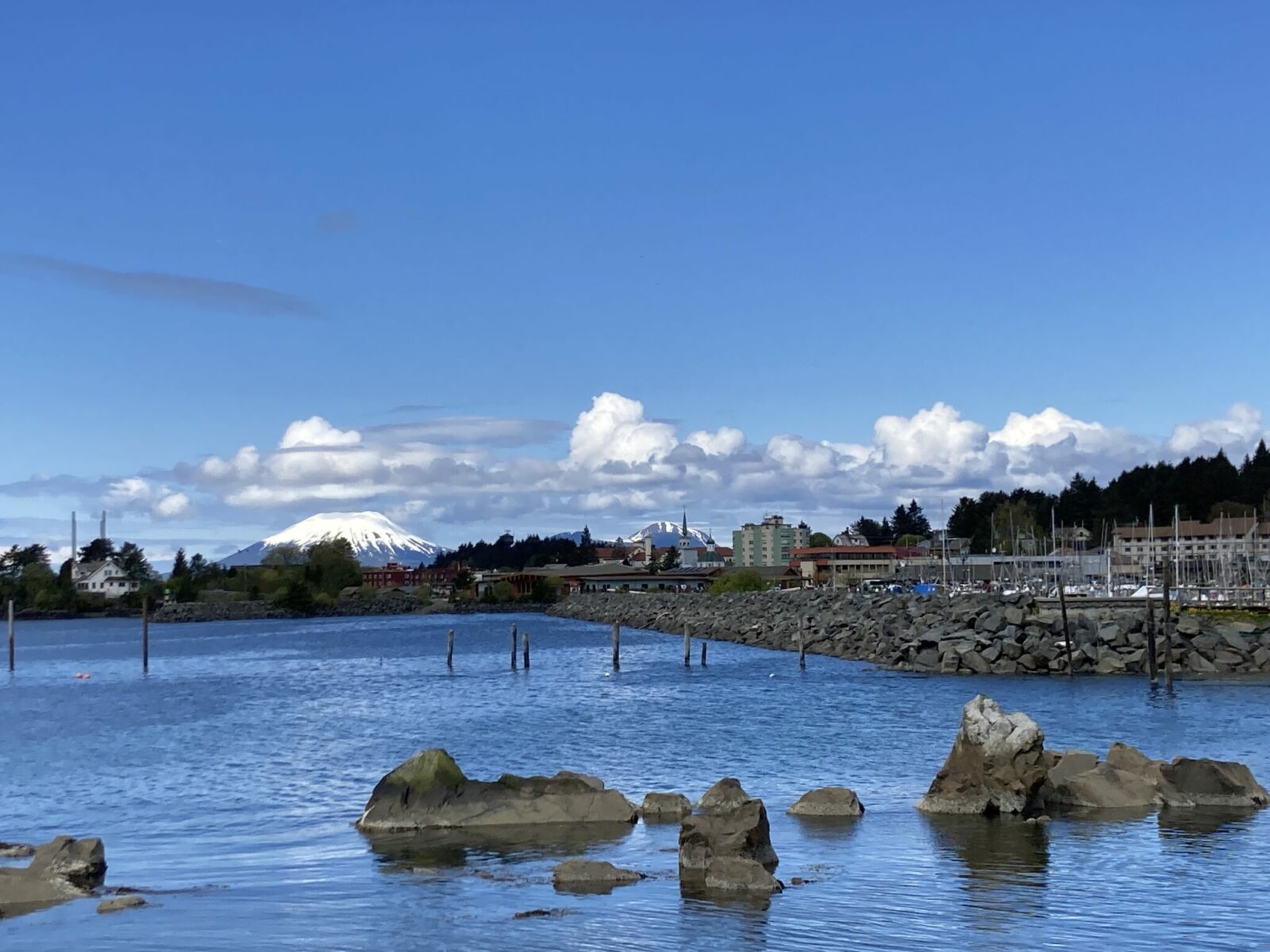 Sitka is a wonderful Alaska cruise port to explore on your own. The cruise ship dock is quite far from downtown, but there's a free shuttle to take you there and back.
Sitka National Historical Park
If you only do one thing in Sitka, make it this. About a mile and a half of smooth, wide, flat trails through the rainforest take you to a large collection of Totem Poles from all over Southeast Alaska. You also get to the riverbank and the beach and it's a great place to see eagles.
You can walk there from downtown, going past the Sitka Sound Science Center (pop in to learn about sea life) and Ludwig's Chowder Cart.
Visit St Michael's Cathedral
For a small donation, you can visit St Michael's Russian Orthodox Cathedral. It's a small, but beautiful church with a ton of history going back to when Sitka was the capital of Russian America.
Check out the view from Baranoff Castle State Historic Site
This site on top of a small hill has a great view and was the location where Alaska was formally handed off from Russia to the United States in 1867. It is also the first place in the US where the US flag with 49 stars was raised after Alaska became a state in 1959.
Explore the shops and restaurants
Sitka is another fantastic Alaska food town. Make sure to go to Ashmo's fish food truck, Ludwig's Chowder Cart (by the Sitka Sound Science Center) and the backdoor cafe behind the wonderful bookstore.
There are lots of wonderful local shops downtown including an art co-op and several outfitters for buying Alaska gear.
Things to do on your own in Icy Strait Point/Hoonah
When you dock at Icy Strait Point, you're about a mile and a half from the village of Hoonah. The main services for visitors (tours, activities and food) are right at the dock at Icy Strait Point.
You can explore the trails, food and activities at the Icy Strait Point dock, all of which are Native Alaskan owned. If you want to get further away on your own, your best option is to walk along the road toward the village of Hoonah.