Best things to do in Alaska, according to Alaskans
Posted On December 23, 2019
Last Updated on August 9, 2023
Wanting to find the things in Alaska that Alaskans love to do? If Alaskans love them, you know they will also be amazing for visitors. Right? As a former Alaskan, I am excited to share this post about the best things to do in Alaska because all these ideas are from Alaskans! These are rounded up from lots of friends in different parts of Alaska as well as my own favorites based on seven years living in Alaska and multiple visits per year. These are all places loved by locals and also accessible to visitors.
Related: Alaska on a Budget, Best Alaska Itineraries
Best Things to do In Anchorage according to Alaskans
The city of Anchorage is often a hub for visitors to Alaska. The largest airport, most flights and (generally) the least expensive airfare are here. It is also a hub for Alaskans. What do Alaskans think are the best things to do in Anchorage? Here they are:
Alaska Native Heritage Center is dedicated to preserving and strengthening Alaska native culture. It also provides an opportunity for visitors to learn. Open mid May through mid September, you can visit as well as take a tour of the village sites. Each site honoring and teaching the traditions of a different group of Alaska Natives.
Anchorage Museum is all about the culture and unique environment of Alaska and the north and is open year round.
Walk or bike the Coastal Trail starting in downtown Anchorage. The trail goes 11 miles along the coast and is mostly paved and mostly flat. You can also rent bikes near the start of the trail downtown which is a fun and faster way to experience more miles.
Have pizza at Moose's Tooth
Earthquake Park is located along the Coastal Trail and this unique part of it is worth a visit all by itself. The park sits on an area that was devastated during the 1964 Good Friday earthquake, the largest earthquake ever recorded in North America.
Potter Marsh is a wildlife refuge on the outskirts of Anchorage with a half mile boardwalk. This is an excellent place to see birds from April through September and moose year round.
Hike the Flattop Trail, said to be Alaska's most climbed mountain! Gorgeous views are along the whole steep trail. At 3 miles round trip and 1500 feet of elevation gain, this trail is challenging! The views in all directions are well worth it for those up for a challenge. You can even take a shuttle there if you're in town without access to a car.
Best Day trips from Anchorage according to Alaskans
When Alaskans living in Anchorage want to get out of town, where do they go?
Hatcher Pass is just over an hour away from Anchorage to the north. Locals say this is the easiest place to get in the wilderness close to town. It's a year round destination, with beautiful wildflowers in summer and snowy recreation in the winter. If you'd like to do some hiking, try out the Gold Cord Lake Trail. There's amazing scenery and a lake after just 1.5 miles and 500 feet of elevation gain.
The small town of Girdwood is less than an hour from Anchorage and location of Alaska's best ski area. Year round you can ride the gondola to check out the view. The drive here is incredible all by itself. Turnagain arm has breathtaking mountain views and often a breathtaking bore tide in the water. There are hikes, the scenic tram ride as well as the Alyeska Nordic Spa here.
Eagle River Nature Center – popular with locals for the excellent campgrounds near by as well as the year round trails, this escape from the city of Anchorage is just a 45 minute drive.
Eklutna Lake – just beyond Eagle River, this is a wonderful campground and hiking and biking trail. You can also take kayaks, canoes and paddleboards out into the lake.
Portage Glacier is about 45 minutes beyond Girdwood, continuing along the incredibly scenic Seward Highway. Portage Glacier is retreating rapidly and you can no longer see it from the visitor center, although there is a boat tour across the lake to get to it. There are numerous other hikes in the Portage Valley. The best hike in the area is Portage Pass. To access Portage Pass, you'll head to the very small town of Whittier which involves going through the unusual Whittier Tunnel. Once through the tunnel, make an immediate right and go a short distance up a dirt road to the trailhead. This trail is one mile to the pass with 750 feet of elevation gain. At the pass, spectacular views await. The view is of Prince William Sound back towards Whittier, Portage Glacier and lake ahead of you, and lots of mountains all around. There are blueberries in season here too! This is a great turnaround spot, though the trail continues another two miles down to the edge of the lake.
Alaska Wildlife Conservation Center near Portage is a great place to learn about and visit the amazing animals of Alaska. It's a sanctuary as well as a research facility and a place for visitors and Alaskans to learn about Alaska's wildlife.
Whittier 26 Glacier Cruise: This spectacular day trip on Prince William Sound features glaciers, wildlife and is one of the best tours in Alaska. It's expensive at $159 per person but if you're visiting Alaska I say this is a must do! This really needs its own day even though it's really close to Portage and Girdwood.
Seward – Seward makes a wonderful day trip from Anchorage or part of a trip around the Kenai Peninsula (more info below)
Best Things to do in Denali National Park according to Alaskans
2023 Note: The Denali Park Road closed at Milepost 42 (Polychrome Pass) in August 2021. The park service has announced that the road will remain closed at this point at least through the 2023 season. A permanent fix to this section of road is currently being built. Bus tours will still operate up to that point. Eielson Visitor Center and Wonder Lake will not be accessible.
Denali National Park is an icon on the must see list for many visitors! An important thing to know about Denali is that you cannot drive into the park beyond the first few miles. The vastness of the park and the logistics of the park shuttle bus make it a good idea to start any visit at the Visitor Center at Park Headquarters. You can ride the Alaska Railroad to Denali from Anchorage or Fairbanks if you are looking for an alternative to renting a car. Denali is only accessible mid-May through mid-September.
Even Alaskans have to take the bus to get into the park – the transit bus is an Alaskan favorite because you can get off any time you like and go for a hike in the Denali wilderness. The Mt Healy Overlook trail is a popular hike, especially for Alaskans living in Fairbanks. You don't have to ride the bus to get to Mt Healy, it's near the park entrance and has a great view. The ultimate Alaskan thing to do is to try for the Denali Road Lottery, an unforgettable fall experience!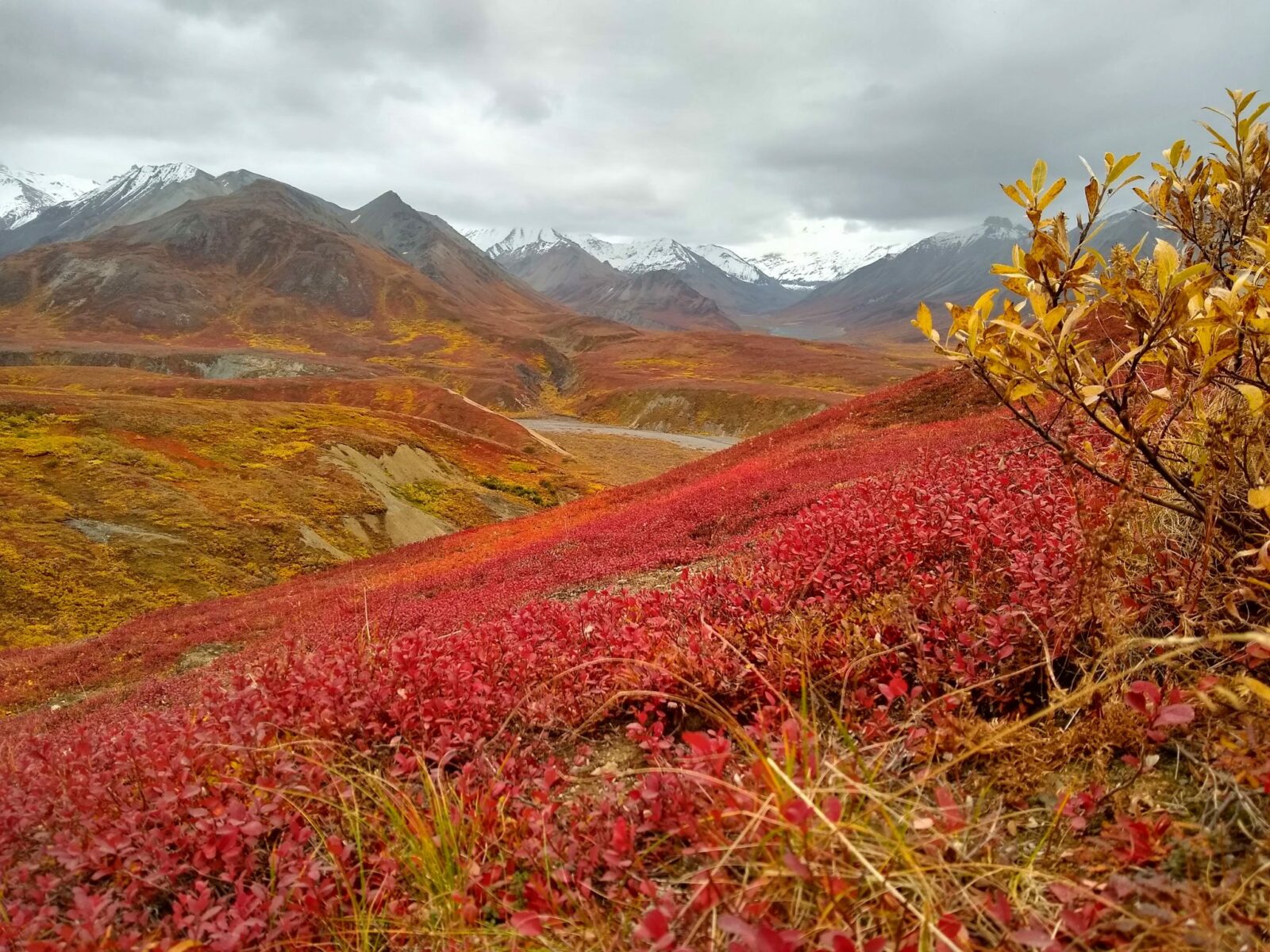 Best Things to do in Fairbanks according to Alaskans
What do Alaskans, and especially people living in Fairbanks, think are the best things to do in the area?
Best Things to do on the Kenai Peninsula according to Alaskans
The Kenai Peninsula is where lots of Alaskans go for trips, so you know it's going to be pretty amazing! Very popular for camping and fishing, here are a few favorite places and activities.
The charming town of Seward has fun shops and restaurants and is a good place to go kayaking. Don't miss the Alaska Sea Life Center, and aquarium featuring the sea animals of Alaska. The campgrounds around Seward are very busy with Alaskans in the summer.
Take a boat tour in Kenai Fjords National Park, from the town of Seward (learn more about visiting Alaska national parks here)
Exit Glacier and the Harding Icefield Trail in Kenai Fjords National Park: This spectacular and strenous 9 mile hike with 3500 feet of elevation gain is a favorite of Alaskans! If that sounds like too much, you can keep it mellow with a 20 minute walk to Exit Glacier from the visitor center instead. The visitor center is a 15 minute drive from the town of Seward.
The town of Homer and the Homer spit: The bustling harbor and shops on the spit and of course the Salty Dawg saloon in it's funky building. Try tidepooling on Bishop's Beach. Homer is another place that's good for kayaking. You can even take a water taxi across the bay for a remote camping or kayaking experience. There are yurts you can rent which is an amazing experience! The Pier One Theater is highly recommended for community theater shows throughout the summer season.
Captain Cook State Recreation Area is just north of Soldotna along the Cook Inlet. You can camp here, see amazing views of the volcanoes across the Cook Inlet, play on the beach and walk in the forest.
Halibut Fishing charter: If you enjoy fishing then try halibut fishing during your visit to Alaska! It's challenging and fun and you can get your fish packaged, frozen and even shipped home. The Kenai Peninsula is a good place to do a halibut charter. Read the reviews for different charter companies and ask them about how much time you'll spend on the water before being able to fish (this varies a lot from port to port). When I lived in Alaska, I went halibut fishing every year to fill up my freezer.
Boyd Shaffer Nature trail along the Kenai River in the town of Soldotna. Find the trail behind the campus of Kenai Peninsula College.
Related: Things to do in Seward
Best Things to do in Southeast Alaska according to Alaskans
Southeast Alaska is very busy with cruise ships in the summer, so what do locals who live there like to do on days off?
Mendenhall Glacier in Juneau is a beautiful and alarming place to visit with climate change being in your face. Hike the flat, 2 mile Nugget Falls trail (which was built in 2010 following the glacier receding) to a stunning waterfall.
Mt Roberts features the Mt Roberts tramway which is totally worth it when you can see the view. If you want to save $35, hike instead! Whichever way you go, there is additional hiking in the meadows above the tram and amazing views of Juneau, the water and surrounding mountains.
Visit LeConte Glacier, the southernmost tidewater glacier in the Northern Hemisphere. You can take a day trip here from either Petersburg or Wrangell and see incredible scenery on the way to a bay filled with icebergs. This stunning bay is way off the beaten path and not many visitors get to see it. With a little effort to go to a less busy location you can access a boat trip here which is unforgettable.
Hiking – a great way to escape crowded streets in town is to hit the trails. All of Southeast Alaska's cruise ports have trails that you can get to easily from town without driving.
Fishing – fishing is one of the most popular activities in the summer. Hop on a charter and experience a day on the water like Alaskans do!
Tracy Arm – many Alaskans (especially those who live in Southeast Alaska) think this is one of the most beautiful places in all of Alaska.