5 Free Unique Seattle Holiday Traditions
Posted On November 29, 2018
Last Updated on January 1, 2022
It's the holiday season and there are plenty of unique Seattle holiday traditions for the whole family that are free or nearly free! Here are my Top 5: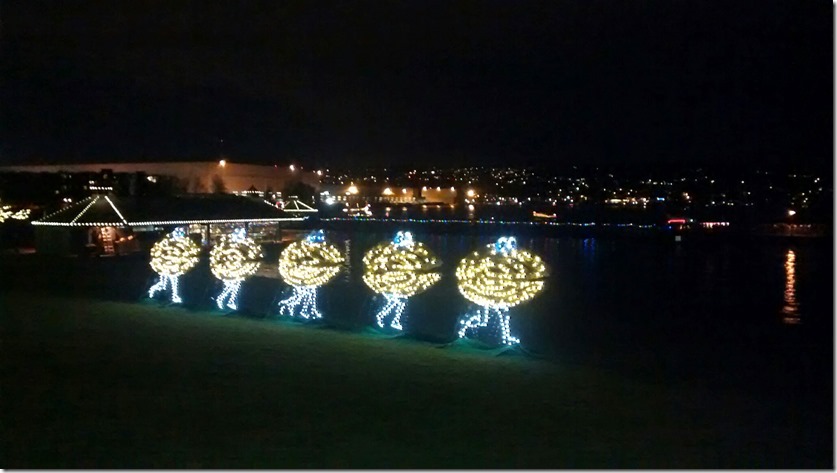 Related: Seattle in Winter – 17 ways to have fun like a local
1. Christmas Ship Festival (various locations throughout the holiday season)
The Christmas Ship Festival is THE unique Seattle holiday tradition that is not to be missed (and we previously talked about here)! What could be more Seattle than boats decorated with holiday lights?? With events nearly every night throughout the holiday season. You can pay to ride on board one of the boats (which is fun and worth it), or you can watch for free from the shore at various locations. A number of the events even have an official shore event with the choir music broadcast from the ship and bonfires! Our favorite is the final night, December 23rd, with the shore party at Gasworks park.
2. Clam Lights (Gene Coulon Park, Renton; 5pm-9pm nightly throughout the holiday season)
Clam lights is a fun and free light display in Gene Coulon park along Lake Washington, which includes the Christmas ship parade on opening night (November 30th) and some of the other nights as well. Dancing clams in holiday lights?? What's not to love? And how old school Seattle is that??
3. Figgy Pudding Caroling Competition (Downtown Seattle by Westlake Mall, Friday December 7th)
The Figgy Pudding Caroling Competition takes place the first Friday of December every year from 6:15-7:15pm, with many group of carolers in costume signing for charity. You can walk around and here a ton of different groups and donate to their charity if you choose. Just listening to the caroling itself is free. It's very festive and a great way to check out all the holiday decorations in downtown Seattle.
4. Sheraton Hotel Gingerbread Village (Downtown Seattle Sheraton Hotel, November 19-January 1)
For a suggested donation of $5 per person, you can stroll through the magnificent gingerbread village at the downtown Seattle Sheraton Hotel, built by Seattle's builders, architects and the Sheraton's chefs! Each year features a new theme for the village and will delight young and old alike! Be aware of long lines on weekends.
5. Candy Cane Lane (generally fully set up by the end of the first week of December, University District)
Candy Cane Lane is another delightful free holiday tradition in Seattle. A few blocks of historic homes in the Ravenna neighborhood sport an impressive display of lights! This is an unofficial neighborhood affair, so there is no official start date or times, but generally by the first week of December all the lights are set up! You can drive through Candy Cane Lane, but you can also park nearby and walk around if you'd like to spend more time. Technically, Candy Cane Lane is NE Park road (off Ravenna Blvd), but if you tell Google Maps to take you to Candy Cane Lane, it will take you right there!
BONUS: Pike Place Market
Pike Place Market is open and bustling year round and is a great place to purchase handmade and local gifts as well as delicious food for those holiday meals!